CHESAPEAKE BAY
CAPE CHARLES, VIRGINIA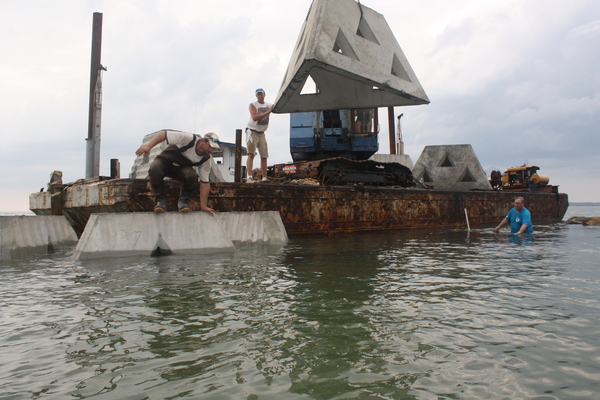 Read News Articles Click on Links below:


Don't Make Waves -- First WADs in Virginia
Can New-Design Breakwaters Save Seabreeze Apartments?

FIRST UPDATE: WADs in Virginia Installed Off Cape Charles in Chesapeake Bay
Click on the links below for additional projects:
National Audubon Society of Florida Bird Santuary at Alafia River, Tampa, FL
National Audubon Press Release
Profile Change of Island
NEGRIL BEACH, JAMAICA
Cocoplum Developements Beach Restoration
Click Here:
Cocoplum Final Monitoring Report
:
13,000 cubic meters of sand accreted in this small area in 18 months.

PEAKES POINT RESTORATION
Hurricane Ivan destroys Gulf Breeze Florida Home.
WADs armor beach, build and restore beach to 9' above MLT, sloped to
previous beach line and stabilize by planting indigenous plant species
Before and After (4 hurricanes later)

LaDON SWAN SYMPOSIUM
The Use of Living Shorelines to Mitigate the Effects of Storm Events on Dauphin Island, Alabama, USA, by LaDon Swann



WEST BAY SEAGRASS RESTORATION PROJECT

Pilot Project for West Bay Seagrass Transplantation and Restoration
St. andrew B.E.S.T.: Neil J. Lamb, PhD, Project Manager
Photographs of Project



HORSEHEAD SHORELINE AND SHALLOW WATER HABITAT RESTORATION
Project Purpose: Provide aquatic habitat in conjunction with a shoreline
restoration project and dampen wave energy
Fish Haven Monitoring: Page 3



PROJECT GREENSHORES
2003 Coastal America Award
Placement of 40 scientifically engineered WADs
Phase One of Project Greenshores


WAD® (Wave Attenuation Device) is a Registered Trademark of Coastal Restoration Inc.,
for which Living Shoreline Solutions, Inc., has exclusive worldwide licensing rights.